The 2018 Munich Shanghai electronics show was held from March 14 to 16 at the Shanghai new international expo center. Welcome to our booth E6 hall 6464!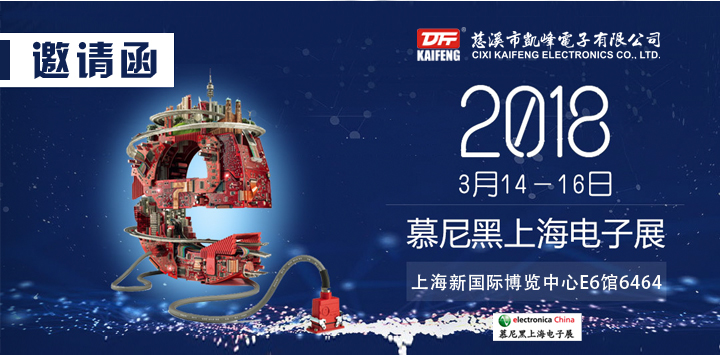 [The exhibition profiles]
The electronics ica China Munich and Shanghai electronics show is one of the most important electronic industry events in the industry.
Over the years, the exhibition has become a platform for innovation
leading to the future of electronic technology.
Semiconductors, sensors, connectors and power supply form the core of planet e,
creating its landscapes, cities and streets.
Planet e's innovation helps people understand more intuitively the dynamics
behind the development of the electronic world. On planet e,
visitors and exhibitors are its residents who can easily
communicate with each other at any time to witness the development
trend of the global electronics industry.
[exhibition theme]
With the theme of "wisdom to the future",
the 2018 Munich electronics show presents advanced
technologies of electronic products in hot fields such as automobiles,
Internet of things, industry 4.0, artificial intelligence, 5G, and consumer electronics.
With the help of several international electronics industry giants,
the 2018 Munich electronics show jointly reveals advanced
technologies of electronic technology and future development trends of the industry.
What makes e planet so special?
Comprehensive display of the most advanced

products and technologies in the field of electronics;
Excellent business interaction platform: high-quality buyers,

achievement of business opportunities;
From components to systems, from applications to services,

covering the whole industrial chain of electronic information;
Very forward-looking activities in the same period:

focus on the industry focus, grasp the industry trendy;